Boycott Turkey campaign spreads in Finland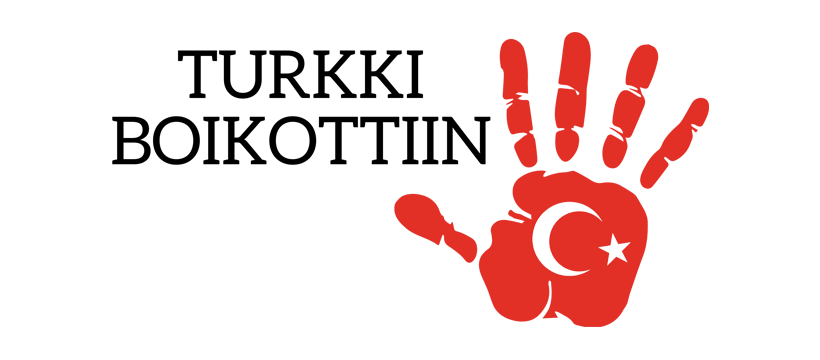 In Finland, a campaign has been launched to boycott tourism in Turkey, Turkish imports and companies producing in Turkey. The campaign is also demanding an end to all arms sales between Finland and Turkey.
Historically, Turkey is not among Finland's core export and import countries. There are, however, some sectors of economy where the relationships between the two economies are significant. Following a research of activists, three economic fields have emerged as main target of the campaign: the clothing and textile industries, tourism and arms sales.
Most of the Finnish textile and clothing brands have outsourced or relocated their production in Turkey. Finlayson and Nanso, for example, turned out to have located 66% and 73% of their production respectively in Turkey, while several other companies have Turkish production in
various smaller scales. Finnish brands are exploiting the repression of workers' organizing in Turkey, guaranteed by the authoritarian regime of Recep Tayyip Erdogan, resulting in cheap labour and poor working conditions. Meanwhile, the same companies are embracing ecological and social corporate responsibility for Finnish customers. The boycott campaign is therefore calling companies to fulfill their responsibilities and withdraw their production from Turkey until the state is democratized and the occupation of Kurdish territories uplifted. The current conditions in the state of Turkey under the authoritarian regime are neither responsible nor socially sustainable.
Meanwhile, for several years Turkey has been among the most popular holiday destinations of Finnish travelers. The peak of Finnish tourism in Turkey was in 2015 when 213 803 Finnish people visited the country.
This was followed by a rapid collapse in numbers, due to the brutal crackdown of civil society and the resulting social chaos in Turkey from 2015 onwards. The numbers began to increase only after intensive marketing and lobbying effort by Turkish tourism and state-related
companies. According to statistical data of Turkish Ministry of Culture and Tourism, some 130,000 Finnish people visited Turkey last year, marking second consecutive year of growth. The boycott campaign is calling Finnish people to be aware of tourism related white washing conducted by the Turkish state and to not holiday in a country where their money will end up in the pockets of Recep Tayyip Erdogan's authoritarian regime and its oligarchs and warlords. Also, companies such as sports clubs are called to stop advertizing Turkish tourism companies, most notably Turkish Airlines, for their links to AKP-MHP regime and war economy.
The Finnish arms exports, on the other hand, have increased exponentially during the 2010's while Recep Tayyip Erdogan has tightened his grip on power and ignited several wars against Kurdish people both inside and outside Turkish borders. The growth of arms exports has been so fast that Turkey has become the second most important export country for Finnish arms manufacturers. The main exports are processed steel and armouring that are sold to Turkish companies such as BMC Otomotiv, Otokar, Nurol and Katmerciler. These companies, in turn, use the steel to produce armored vehicles and tanks, such as BMC's Kirpi, for Turkish Armed Forces. These vehicles have been used in the illegal occupation of Rojava – North Syria, both in Afrin and in Hesekeh cantons, thus marking stark contradiction to Finnish government policy of not exporting weapons to countries where they end up used in invasion war.
In addition to steel and armouring, also ammunition and more advanced technologies such as radar, thermal, measuring, aiming and drone systems and their components have been exported to Turkey. Immediately following the night of the Turkish invasion in Rojava, 9th of October 2019, Finnish state froze all new export permissions to Turkey. Meanwhile, 20 permits that already existed are still valid for years and in effect exports of war technolocy continue uninterrupted. The boycott campaign is demanding the Finnish government to follow its own program to not
export weapons to countries that witness suppression of human rights or participate in armed conflict. Turkey is fullfilling both of these criteria, while only one of them is enough to review and cancel existing permissions.
The boycott campaign is updating about the developments of the campaign, as well about the arms sales, Finnish companies producing in Turkey and Turkish imports in Finland, in their web site.
ANF, Firat News Agency